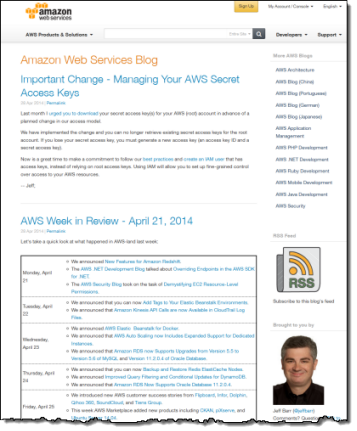 The AWS Blog has moved to a new location - please update your bookmarks to point to http://aws.amazon.com/blogs/aws/ .
If you are subscribed to the blog through the RSS feed, you should not need to make any changes.
The new blog (pictured at right) has a fresh, clean design, and it is responsive to boot! As is the case with every part of AWS, we will continue to enhance it in the days and weeks after today's launch. All 90 of my posts from 2014 are already available on the new blog; the rest will be there shortly.
This new location is the first step in a bigger project that will ultimately make all of the AWS blogs available within a common URL structure. We have a lot of news and other information to share and are taking steps now to make sure that you can easily find and enjoy as much of it as possible.
-- Jeff;