A Amazon Web Services tem hoje mais três novos anúncios para usuários de servidores EC2:
Nós introduzimos um novo tipo de instância, a Média (m1.medium).
Você pode agora criar instâncias com sistemas operacionais 64 bits também nas instâncias m1.small e c1.medium.
Você agora pode fazer login em um servidor EC2 diretamente do console de gerenciamento da AWS utilizando um cliente SSH integrado.
Novo Tipo de Instância
A nova instância Medium preenche uma janela entre os tipos Small e Large dentro da família m1. Agora temos 13 tipos diferentes de instâncias (veja quais são os outros tipos de instância EC2). Eis suas especificações:
3.75 GB of RAM
1 virtual core executando com 2 ECU (EC2 Compute Unit)
410 GB de storage efemero na instância
32 and 64-bit
Performance de I/O moderada
A nova instância do tipo Medium já está disponível em todas as regiões da AWS. Veja a página de preços do EC2 para mais informações sobre preços de instâncias on-demand, reservadas e spot.
Instâncias 64-bit
Você agora pode criar sistemas operacionais 64-bits nas instâncias Small e Medium. Por exemplo: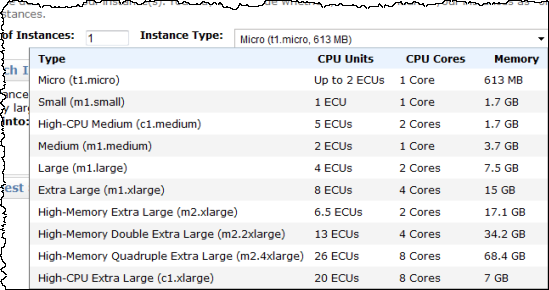 Isso tornará ainda mais fácil escalar verticalmente (para instâncias maiores ou menores) sem a necessidade de manter imagens (AMIs) paralelas em versões 32 e 64-bits.
Cliente SSH Integrado
Nós integramos o Cliente SSH MindTerm na AWS Management Console, para simplificar o processo de conectar em uma instância EC2. Agora há uma segunda opção na janela Connect: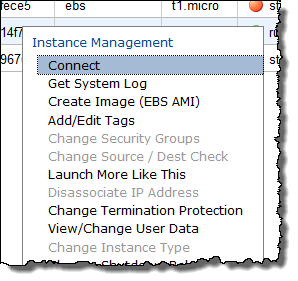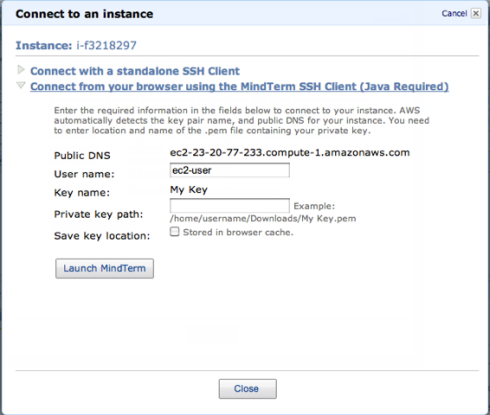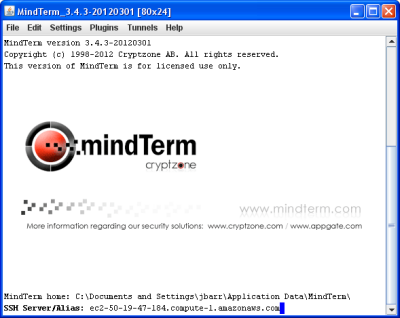 Creio que muitos clientes ficarão felizes com as novidades. Todas elas são requisições feitas por diversos clientes ao redor do mundo. A Amazon fica feliz em sempre lançar novas funcionalidades requisitadas por nossos centenas de milhares de clientes no mundo todo.
-- José Papo